Listed groundworks giant buys firm for £31m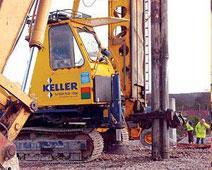 Listed groundworks giant Keller has bought a South African specialist contractor, Esorfranki Geotechnical, for £31m.
Esorfranki Geotechnical is the largest ground engineering business in South Africa and was previously a division of Johannesburg-listed contractor Esofranki Limited.
The acquired firm turned over £49m and made an underlying operating profit of £3.3m in the latest financial year to 28 February 2013.
Keller said the buy would "accelerate" the firm's entry into sub-Saharan construction markets, where it expects "significant growth over the medium to long term".
Completion is expected by the end of November and is subject to approval by shareholders of Esorfranki Limited at its general meeting on 18 November and the approval of the South African Reserve Bank.
Justin Atkinson, chief executive of Keller, said: "This important acquisition marks another milestone in our strategy of extending our global leadership by expansion into new, higher growth regions.
"The combination of Esorfranki Geotechnical's local knowledge and resources with Keller's scale, experience and broad range of techniques will make us ideally placed to undertake complex major projects requiring design expertise and multi-product solutions in a region where we expect the longer-term opportunities to be significant."