Pair will plough £25m into entertainment scheme, due to be built near Swanscombe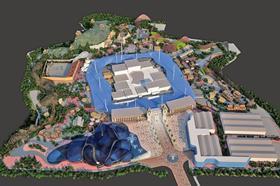 Keltbray and the backers of the London Resort theme park have formed a joint venture to help deliver the £3.5bn entertainment destination due to be built in Kent and promised to pump £25m into the ambitious scheme.
With plans to build the complex on a Thames peninsula near the north Kent town of Swanscombe, London Resort Company Holdings (LRCH) said the resort would feature a theme park, sporting facilities, entertainment street, a staff training academy and around 5,000 hotel rooms.
If approved, it is anticipated that construction on the 7m sq ft scheme could begin next year with the resort opening to the public in 2023.
The new joint venture, LR Keltbray, said it would invest £25m in the resort.
Keltbray's chief executive Brendan Kerr said: "This new theme park won't be an easy project, but that is why the formulation of this jv with LRCH is an ideal partnership.
"We're delighted to be involved in what I'm sure will provide a significant boost to both employment and tourism in the UK."
Chairman of LRCH and former Conservative transport minister Steve Norris said the project was set to become one of the largest construction projects in the UK and Keltbray's involvement "takes us a significant step closer to delivering a world class resort".
Last year LRCH parted company with its then-London Resort development partner Hollywood-based Paramount Licensing Inc.