London Resort Company Holdings and Paramount Licensing Inc have agreed to discontinue the license agreement for the proposed resort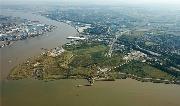 The developer behind a proposed £3.2bn theme park in Kent has parted ways with its Hollywood partner Paramount.
London Resort Company Holdings (LRCH) said it and Paramount Licensing Inc had "jointly agreed to discontinue the license agreement for the proposed entertainment resort".
The news follows the departure of LRCH's chief executive David Testa in February. He was replaced by Humphrey Percy, who is also group chief executive of London Paramount's parent company Kuwaiti European Holding Group.
Percy said that split did not affect the firm's plans to submit for planning permission from the government in November.
He added: "We are working closely with the local authorities, landowners and local community, as well as our other stakeholders, and we very much look forward to showing our plans to the public as part of our final stage of consultation prior to submitting later this year."
The attraction planned for the Swanscombe Peninsula is targeting a 2022 opening date and a source said that when the firm submits for planning permission it will also start "reaching out to companies [contactors]" so that once approval from the government for the scheme has been obtained work on site can commence immediately.
Meanwhile LRCH has agreed heads of terms with Intercontinental Hotels Group (IHG) to operate 4,000 rooms across a series hotels planned for the resort. The hotels to be developed in phases will open under a number of IHG's brands.
Percy said: "This Head of Terms agreement with IHG is a key piece in our jigsaw puzzle of infrastructure operations which sets an important standard for the resort."
Architecture practice Farrells and Savills are helping masterplan the 900-acre resort.