Contractor puts faith in 'future-proofing' programme to streamline business as net debt hits £375m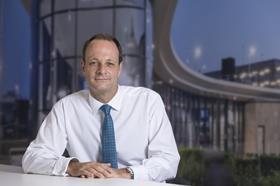 Kier's management has promised to address the contractor's spiralling debt after reporting a 17% increase in net debt in its latest results.
With speculation rife around its debt position and investors shorting its shares amid concerns about its future, the contractor said average net debt had risen to around £375m, which it said was the result of the timing of investment in property and residential assets throughout the 12 months to the end of June, the acquisition of McNicholas and the creation of its joint venture with Homes England.
It also blamed weak construction volumes in the first half followed by a strong recovery late in the second six months.
Kier's chief executive Haydn Mursell (pictured) said the 'Future Proofing Kier' programme, launched in June, would streamline the business, "enabling us to deliver a more efficient service to clients, respond to changes in our markets and capitalise on growth opportunities, whilst, importantly, also accelerating the reduction of the group's net debt position.
"Management recognises the need to address [the situation] and a net debt improvement plan is underway, driven by expected overall free cash flows of £20m to £40m a year and the additional benefits of the 'Future Proofing Kier' programme of at least £20m in the 2020 financial year."
Mursell said the firm was aiming for a net debt position of around £250m and a year-end net cash position at the end of its 2021 financial year.
The contractor reported overall annual turnover for the 12 months to the end of June 2018 of £4.5bn, up 5%, and operating profit of £160m, an operating margin of 3.6%, slightly ahead of last year's 3.4%. Pre-tax profit came in at £137m, up 9%.
Kier's services division, which generates more than half its operating profit, saw turnover rise by 10% to £1.85bn, with operating profit up 7% at £93m, while its order book grew just under 11% to £5.2bn.
The group's construction arm generated £2.1bn in revenue, level on a like-for-like basis with last year, while operating profit rose 5% to £42m and operating margins of 2%, level with last year. The division's order book rose 19% to £5bn.
Kier, which is on site with a 13-storey scheme to build a 192-bed hotel on London's Blackfriars Road that will be operated by hip hotel group Hoxton, said the combined construction and services order book of £10.2bn grew 15%, including the McNicholas order book.
Residential activity generated an operating profit of £26m, up 14%, on flat turnover of £374m, while its property division saw turnover rise by a fifth to £218m and operating profit increase by nearly a third to £34m.
The group said its supply chain in the construction and open market residential business could take part in an early payment scheme and choose to access payment from a group of banks after 21 days rather than the contractor's normal 60 day payment terms. Kier then pays the participating banks directly after around 90 days.
Kier said the £185m early payment balance was 6% lower than last year's figure.
Despite its debt situation, Kier rewarded investors with a 2% increase in the dividend payout to 69p a share.
The City liked the figures, nudging the group's share price up by 3.3% in afternoon trading.
Cenkos analyst Kevin Cammack said the good news was that there were "no surprises at all that I can see in the numbers".
He went on: "Plus there were no exceptionals, and the group is setting targets on debt reduction by 2021 that include full elimination of its year end £186m position and a reduction in average debt of £125m to £250m."