New distribution hub will take up the same area as 12 premier league football pitches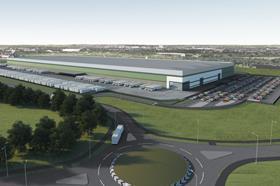 Kier has won a £39m contract to build a distribution hub in Wixams, Bedford for developers UK Land and Property.
The 1,000,000ft² warehouse will include temperature controlled zones, offices, recycling and ancillary areas, as well as a surrounding gatehouse and vehicle maintenance area.
The warehouse will be occupied by B&M Retail Ltd who will use it as a southern distribution centre.
Mark Pausey, managing director of Kier Construction Central, said: "It is an exciting award for Kier and not only is the size of the warehouse going to be impressive, but it also includes 200,000m3 of earthworks and will see us use 4,500 tonnes of steel throughout the build."
The project is the latest industrial work taken by Kier, and follows a £10m contract to buid a factory for yoghurt producer Müller in April.
The contractor was chosen to deliver major extension doubling the size of Müller's factory in Telford, allowing the Bavarian dairy giant to upscale production.