Labour says if elected to government it would require councils to include a higher proportion of small sites in their land pipeline to help SME firms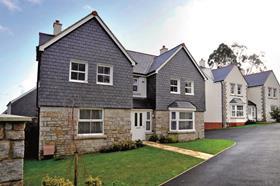 A Labour government would require councils to include a higher proportion of small development sites in their land pipelines as part of a push to boost the role of small and medium housebuilders in building new homes, the party's spokesperson has said.
In a speech today, shadow housing minister Emma Reynolds will outline plans to increase the role of small to medium builders in the supply of new homes, including a proposal to require local authorities to include a higher proportion of small sites in their five year land supply.
Reynolds will also say a future Labour government will give guaranteed access to public land to smaller firms and that any public land given over for housebuilding will have a proportion dedicated for small to medium firms and self-build or custom housebuilding.
She will say: "We know that one of the key barriers for small and custom builders is access to land.
"That's why I am announcing today Build First - a package of measures to assemble an army of smaller firms and custom builders to tackle the housing shortage and help the next generation on to the property ladder."
Reynolds will say the UK housing market had a "broken gear stick" as it was unable to boost supply to meet demand.
She will say: "As currently structured, our country's building sector has a broken gear stick. When the time comes to shift up a gear our housebuilding industry is found wanting.
"Over the past 30 years we have been consistently out-built by our international competitors.
"France has a similar population but is building three times as many homes. Canada has half our population but is out-building us by two to one. Japan has twice our population but is building ten times as many homes - building over 90,000 homes in November alone.
"There is no single reason for this but one of the key factors is that our building sector has become less competitive and this has had serious consequences.
"Fixing the gear stick - delivering a step-change in housebuilding
"To achieve our ambition of doubling housebuilding and then going further to meet need - we need a thriving building sector. That means our big volume housebuilders have an essential role to play."
"However, we must introduce greater competition and diversity if we are to increase output, driving innovation and improving quality."
Reynolds will also reaffirm Labour's commitment to building a new generation of garden cities, witha proportion of the new development to be built by small to medium firms.
This comes after reports over the weekend that Conservatives were blocking plans for two new garden cities projects, with the Liberal Democrats accusing the party of fearing alienating voters in southern England ahead of the general election.
According to the report, the Tories have suppressed the publication of a report report which recommends building two new garden cities in Buckinghamshire and Oxfordshire to combat the housing shortage.
The Conservatives have denied any delay and said plans would be outlined for 2015.