Development will benefit from recent investment in the south east London district, including a new Crossrail station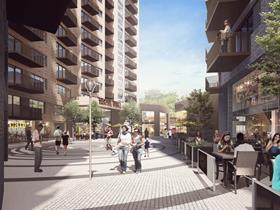 Legal & General plans to build more than 650 rental homes on a brownfield site in Woolwich, south east London.
The scheme (pictured), which is subject to planning approval, will also feature 21,000ft² of commercial space and will be built on the site known as Macbean, near Woolwich Overground station.
Completion of the deal to buy the site, which it acquired with co-investors Legal & General Capital, Dutch pension fund provider PGGM and funding from L&G Investment Real Assets, is dependent on gaining planning permission.
L&G declined to put a value on the development, which will comprise private and affordable rental homes, divided between London Living rent and Discount Market Rent.
Dan Batterton, LGIM Real Assets' build-to-rent fund manager, said the site's location was highly desirable for renters and would offer "significantly reduced living costs thanks to economies of scale".
He went on: "Given the notable infrastructure developments in the area, such as Crossrail, it has been a target location for us to expand our BTR offering and we remain firmly on track with our growth plans."
L&G has stated its ambition to build 80,000 homes by the middle of the next decade and recently poached Chris Sly from Berkeley Homes to become its house building division's new finance director.