Application lodged for judicial review into Lambeth council decision to OK plan
A legal challenge to stop Thomas Heatherwick's Garden Bridge being built has begun with a former director of a local community group applying to the High Court for a judicial review into a decision to give it planning.
Michael Ball is behind the move and is claiming that one of the local authorities which gave it the green light last year, Lambeth council, did so unlawfully.
Papers were served at the High Court at the end of last month with a decision on whether Ball is given the chance to make his case due next month.
Ball, who lives in south London, has joined the Garden Bridge Trust, the charity responsible for building and looking after the bridge, in his action – although it is not a defendant in the case and has instead been named as an interested party.
Ball, a former director of Waterloo Community Development Group, said: "The impact of the Garden Bridge will be devastating. The best views of the City and St Paul's will be compromised from Waterloo Bridge and entirely blocked along the South Bank."
Lawyers for Ball are arguing that the council failed to comply with its duty to protect the settings of listed buildings in the area, including Somerset House and that the long-term funding arrangements for the operation and maintenance of the bridge have not been properly considered.
Richard Stein, a partner at law firm Leigh Day, said: "This seems like a poorly thought through project which, although attractive at first glance, on reflection is seriously deficient in a number of important respects.
"We are asking the court to quash the planning permission and to send the project back to Lambeth for much more careful consideration before such a significant change is made to the historic heart of London."
Ball said he had worries about how the Garden Bridge Trust, whose trustees include David Cameron's speechwriter Clare Foges, will fund the annual £3.5 million maintenance bill.
Last month, BD reported that corporate membership, food stalls and selling T-shirts and pens are among the initiatives being discussed.
"The Trust has produced no evidence that they can raise the annual running costs and we all may end up picking up the tab," Ball added.
And he said: "I have been particularly aggrieved at the manner in which this proposal and planning application has been handled by Lambeth and by other agencies of government, starting with private letters to Boris Johnson, bypassing both strategic planning and public procurement rules, and sustained by a flawed and inadequate planning scrutiny."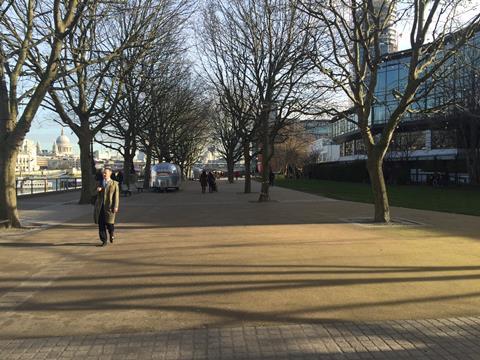 Earlier this month, it emerged that high-profile Garden Bridge backer, the actress Joanna Lumley, wrote a private letter to London mayor Boris Johnson just days after he won a second term back in 2012, begging him to endorse the idea of a garden bridge. Her letter claimed the bridge would bring "great loveliness" and added: "Please say yes".
A spokesman for Lambeth council said: "Lambeth's Planning Application Committee reached a decision in November after careful and thorough consideration of the proposed Garden Bridge. We believe it is a creative and ambitious idea, with the potential to become an attractive landmark at Waterloo, benefiting both the local and wider London economy.
"The committee imposed a number of conditions, and directed that these matters are referred back to ensure full public scrutiny prior to their final agreement."
A Garden Bridge Trust spokesperson said: "The Garden Bridge Trust has been made aware that a judicial review application has been served on Lambeth Council following the grant of planning permission for the Garden Bridge in December 2014. This judicial review will run its course and in the meantime, the Trust is proceeding with its plans on all aspects of the project, including fundraising and ongoing consultation with those affected by the development."
A spokeswoman for anti-bridge campaign group Thames Central Open Spaces said: "This will be a battle of David and Goliath proportions. It will be between the haves and the have-nots. The Garden Bridge Trust say they want to give something to the nation yet we to date are paying for most of it.
"The council has been swept away by the tide of celebrity and are prepared to sell the nation down the river. However, there is fast-growing opposition to the bridge as more and more people find out about how deceptive the Garden Bridge Trust's presentation was in the first place. The recent revelations of Joanna Lumley personally lobbying Boris Johnson for a cycle and pedestrian bridge in 2012 and then reneging on her wish to provide for cyclists, is just another example of the sheer lunacy of the whole planning process."
Objectors to the £175 million bridge include St Paul's Cathderal, who in November wrote a letter to the other planning authority involved, Westminster council, warning them it should not be built.
Letter author Oliver Caroe, the cathedral's surveyor to the fabric, told BD it had no further plans to intervene at the moment. "We feel we've said our piece [but] we have a watching brief for what now happens. We tried to set out very carefully what our view was. We don't see anything yet that's changed that position."
At peak, the bridge is expected to have 1,700 people crossing it every hour.
Source
This story first appeared on Building Design here.