Case will be heard before the end of June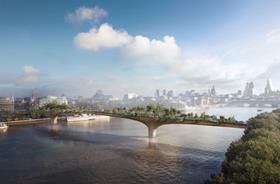 Campaigners against Thomas Heatherwick's Garden Bridge have been cleared to take the project to judicial review.
The High Court will hear the case before the end of June.
The case, which centres around the granting of planning permission, has been brought by Michael Ball, former director of the local Waterloo Community Development Group, who served papers at the high court in January.
The £175 million bridge, designed by Heatherwick Studio, would cross from the South Bank in Lambeth to Temple Tube in Westminster, planted with a garden designed by Dan Perason. Both councils granted planning permission last year.
Ball, who lives in Lambeth, said: "I have been involved in planning matters for 20 years but this is the first time I have personally sought a judicial review. I was spurred to do this by the overwhelming strength of feeling locally against this vanity project and the abysmal failure of decision-makers to deal with the very obvious problems."
Ball's lawyers argue that Lambeth council failed to comply with its duty to protect the settings of listed buildings in the area and that the long-term funding arrangements for the operation and maintenance of the bridge have not been properly considered.
Richard Stein, a partner at law firm Leigh Day, said: "This seems like a poorly thought through project which, although attractive at first glance, on reflection is seriously deficient in a number of important respects.
"We are asking the court to quash the planning permission and to send the project back to Lambeth for much more careful consideration before such a significant change is made to the historic heart of London."
Ball is crowdfunding the case.
Source
This story first appeared on Building Design here.