German firm wants to build 3,000 homes alongside new store openings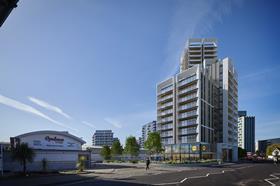 German grocer Lidl's entry into construction shows mixed-use schemes are the future of developments in the UK, according to industry analysts.
Lidl announced this week that it plans to build over 3,000 homes and a primary school around London in the space of just three years.
The discount grocer has already built 335 homes, with a further 476 in the pipeline, as it increasingly pursues mixed-use developments in order to get consent for shops in areas with struggling pre-existing retailers.
In addition to housing, Lidl's development plans include mixed-use schemes featuring offices, hotels, student accommodation and schools – a new store in Richmond, south-west London, is going up with a primary school, Deer Park, being built on top of it.
And a scheme (pictured) designed by FAL in Alperton, north-west London, includes 251 residential units and office space.
Lidl chief executive Christian Härtnagel added: "To date, our stores have supported the creation of over 800 homes, which have either been built, or are soon to be built, and we're entirely open to exploring opportunities to help facilitate further developments. In London alone, for example, there is the potential for Lidl stores to be part of schemes that could see over 3,000 new homes being built over the next three years."
Russell Pedley, director and co-founder at Assael Architecture, said: "Amid a housing crisis, it makes sense for councils and local authorities to encourage retail developers to integrate homes into their projects, keeping the 'high street' vibrant."
Other supermarkets to use mixed-use schemes to bag store approvals include Sainsbury's which developed 700 homes in a joint venture with Barratt in Nine Elms, near Vauxhall, two years ago and Tesco has developed retail and housing schemes elsewhere in London at Woolwich and Streatham.
Ed Fowkes, a director at Prosperity Capital Partners which invests in property for development, said: "As land costs continue to rise alongside build costs, it makes sense for developers to intensify their land use and increase the density of developments."