James Brokenshire has said the London Plan will be judged against the previous planning framework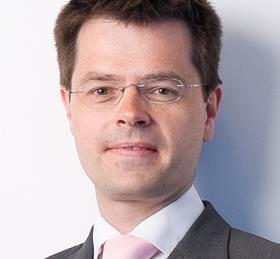 Housing secretary James Brokenshire has said the new London Plan will not be required to comply with the new National Planning Policy Framework and will instead have to adhere to the requirements of the previous planning policy.
In a letter to London mayor Sadiq Khan, Brokenshire (pictured) said the government recognised the necessity of delivering homes in London as soon as possible.
The London Plan is the statutory spatial development strategy for the Greater London area, introduced back in 2004.
A draft plan, which is set to be a successor to one published in 2016, was put out to consultation last December with this ending at the beginning of March. Once published, it is due to shape how the capital develops and uses land over the next 20-25 years.
Brokenshire told Khan the "draft London Plan will be examined against the previous National Planning Policy Framework rather than new national policy".
He added: "This will mean you can continue to progress your plan and start delivering your London Plan targets for which you are responsible."
But Brokenshire told Khan to publish another London Plan that does comply with the new NPPF, published last week, as soon as possible.
He wrote: "The government expects plans to be reviewed early where all identified housing need is not being met and to ensure a plan is in place which reflects current national policy.
"I would therefore expect you to review the London Plan to reflect the revised NPPF immediately once the London Plan has been published. I remind you that if this is not forthcoming, I have powers to direct the review to ensure London delivers the plan and homes that communities need."
The housing secretary also repeatedly threatened to intervene if he did not feel Khan was not ensuring enough homes were built across London.
He said: "I would remind you that I have powers to intervene before the plan is published, by giving a direction to avoid any inconsistencies with current national policy or to avoid detriment to the interests of an area outside of Greater London and I will be carefully considering whether it is appropriate to exercise any of my statutory powers.
"As mayor of London you are responsible for delivering the strategy to significantly increase housing delivery in London and you will be held to account for delivering London's housing targets."
Brokenshire also made public a number of concerns the government had about the draft London Plan, which included the fact the draft plan "strays considerably beyond providing a strategic framework" and that it "does not provide enough information to explain the approach you will take to ensure your targets are delivered".
Government issues with Draft London Plan: what Brokenshire is telling Khan
A number of policy areas in the draft that are inconsistent with national policy, such as your policies allowing development on residential gardens and your policy on car parking


The detail and complexity of the policies within the draft London Plan have the potential to limit accessibility to the planning system and development


The draft plan strays considerably beyond providing a strategic framework


The draft plan does not provide enough information to explain the approach you will take to ensure your targets are delivered, including collaboration with boroughs and neighbouring areas


There are a number of policies in the draft plan which seek to deal with matters relating to building standards and safety. It is important that there is a consistent approach to setting building standards through the framework of building regulations