Tall building conference debates need for towers to include free public space, lest London become 'fair ground for the rich'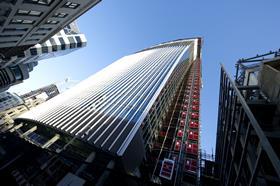 Graham Stirk, co-founder of renowned architecture practice Rogers Stirk Harbour + Partners, has warned London runs the risk of becoming a "fairground" for the rich.
Speaking at the Council on Tall Buildings and Urban Habitat (CTBUH) conference in central London this week, Stirk told delegates that developers and architects had a responsibility to make the capital accessible to everyone.
Stirk said: "If we're not careful we'll create a fairground [in central London] where only those that have the money can have a ride."
He contrasted the practice's under-construction Leadenhall Building - dubbed the Cheesegrater because of its tapering design - in the Square Mile, which creates a substantial public realm at ground-level by cutting into the base of the building with other towers where you can only "[expensively] dine with a view".
None of central London's existing towers set aside space to the non-paying public, although some, including the Gherkin, Heron Tower, Tower 42 and the Shard, offer restaurants or viewing galleries for paying customers.
However, the under-construction Rafael-Vinoly-designed 20 Fenchurch Street - dubbed the Walkie Talkie - will feature a three-storey sky garden open to the public free of charge once completed next year.
Other industry leaders told the CTBUH conference that skyscrapers will be designed more efficiently in future and gave an overview of the tall buildings market.
David Glover, Aecom's global chief executive of building engineering, said skyscrapers could be designed to use 30% less energy and will increasingly be designed without concrete cores.
Glover said more towers will be built as 'tubes', distributing weight on to an external frame rather than using a concrete core, freeing up more interior space for occupiers.
Alinea Consulting partner and CTBUH board of trustees member Steve Watts told the conference the London market for tall buildings was becoming more active due to an influx of money from overseas "not just from Asia, but from places like Latin America and Turkey".
Architects Sir Terry Farrell and Lee Polisano joined Lipton and Stirk in calling for tall building developers and architects to pay more attention to how tall buildings integrate and improve a city's public realm.
Polisano said more money should be extracted from development to fund public transport improvements.
Farrell added that there were opportunities for more dense development along the route of Crossrail, which opens in 2018.
Lance Taylor, chief executive of Rider Levett Bucknall (RLB), told Building UK firms were taking advantage of an "incredible growth" in tall building development around the world, particularly in Asia and the Middle East.
RLB is cost consultant on a number of the tallest buildings in the world, including 632m-tall Shanghai Tower, 555m-tall Lott Jamsil Super Tower in South Korea and 415m-tall International Finance Centre 2 in Hong Kong.
The CTBUH is an international organisation focused on the design, construction and operation of tall buildings. It is best known as the official arbiter of the height of buildings worldwide and for determining which are the tallest in the world.