Prater will deliver £1.7m roofing package on mixed-use Nova scheme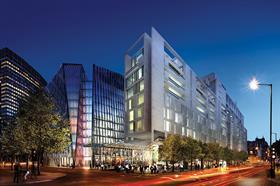 Mace has selected specialist contractor Prater to deliver a £1.7m roofing package on its huge under-construction £380m Nova scheme in Victoria, west London.
Prater will design and install roofing for two of the scheme's commercial buildings and a further residential building.
Mace is currently on site on the first phase of the Nova scheme, which totals 727,000 sq ft, including 480,000 sq ft of offices, 80,000 sq ft of retail and restaurant space and 170 luxury apartments.
The PLP-designed scheme is being built for client Land Securities. Prater has begun on site. The scheme was formerly known as Victoria Circle.
Andy Newman, group director at Lindner UK, said: "The vision of the architects involved is inspiring and we'll use our experience gained from previous high profile, complex projects to make their vision a reality."