Framework will now run until next January
Manchester university has extended a framework for contractors by 18 months due to the covid-19 pandemic.
The construction works framework 2016, which is divided into four lots, covers projects up to £10m meaning it is used on more of the university's minor projects.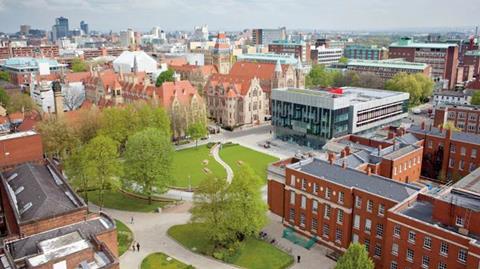 Graham, Kier and Willmott Dixon are the firms on the highest value lot – which covers projects between £4m and £10m.
The university said the extension had been made due to the fact "the outbreak of covid-19 and its impact on the university could not have been foreseen by a diligent contracting authority".
The university said it did not anticipate that the next 18 months will result in a large increase in spend.
The framework is now due to expire in January 2022 – having previously been set to run out in July last year. It only publicly confirmed the decision in a notice published to the Official Journal yesterday.
The deal is one of several construction frameworks that have been extended due to the pandemic including the NHS' new £20bn construction framework, the Crown Commercial Service's new £1.5bn consultancy deal, and a Southwark council housing framework.
Manchester university 2016 construction works framework
Lot 1 - projects worth £100,000-£200,000: Helena Partnerships, J Greenwood Builders, MBC Building Contractor NW, SPE Contracts and SPIE
Lot 2 - projects worth £200,000-£1m: City Build Manchester, F Parkinson, Kaberry Construction, Manchester & Cheshire Construction Co and Warden Construction
Lot 3 - projects worth £1m-£4m: Herbert T Forrest, John Turner Construction, Keepmoat Regeneration and Seddon Construction
Lot 4 - projects worth £4m-£10m: Graham Construction, Kier and Willmott Dixon