Work on scheme designed by AHMM set to start next year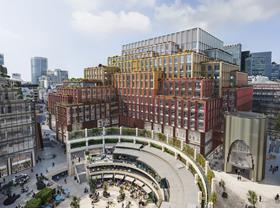 British Land's plans to replace the southern-most element of London's Broadgate Centre with a new AHMM-designed 14-storey scheme have been given the go-ahead by City planners.
The City of London Corporation's planning committee unanimously approved the application for 1-2 Broadgate (pictured) at a meeting held yesterday (29 January).
Sir Robert McAlpine is set to start work on the deal, which is worth around £300m, next year. Other firms working on the scheme include QS Core Five and project manager Gardiner & Theobald. Services engineer is Hilson Moran and AKT II structural engineer.
AHMM's scheme will include 74,178m2 of new floorspace, almost 45,000m2 of which would be new offices, with 21,350m2 of retail, restaurant and leisure space earmarked for its lower floors.
David Lockyer, head of Broadgate at British Land, said: "This decision gives us the opportunity to deliver an exemplar building so we can continue to attract a range of leading businesses, including high-quality retail and leisure operators."
The proposals also feature roof gardens and terraces.
The approval of AHMM's plans follows on from British Land's decision to start work on the refurbishment of 1 Finsbury Avenue, which McAlpine is due to complete soon, and the developer's 135 Bishopsgate, which McAlpine is due to finish in the middle of this year.
McAlpine is also working on the redevelopment of 100 Liverpool Street, designed by Hopkins Architects, which is due to be finished early next year.
All the schemes are part of British Land and Singaporean financial backer GIC's £1.5bn investment plan for the 32 acre Broadgate campus, where around 1m ft2 is under development.