Preferred bidder due in July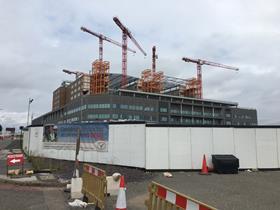 The NHS trust behind the stalled Midland Metropolitan hospital has admitted it is worried the government may be too bogged down with issues like Brexit to sign off a replacement contractor for bust builder Carillion.
In papers published ahead of Thursday's (7 March) meeting of the board of the Sandwell and West Birmingham Hospitals NHS trust, it was revealed there was growing concern the government would be too busy to rubber stamp the appointment of a replacement contractor.
The papers said the "need to manage [the] Whitehall approval process to fit [in] with summer recess and competing priorities for time" was a matter of "concern" and "key risk" to the development of the hospital.
The worries were laid out in an update from the trust's estates team, which also revealed Balfour Beatty's early works contract was "broadly on track" for completion by this July.
The update also said the estate authority had approved a revised programme to ensure a preferred bidder would be named by the same month.
The latest update on the problem job came a week after Building revealed trust chief executive Toby Lewis plans to use government information to judge the financial health of potential replacement contractors.
Lewis said: "The financial viability of both the bidding company and any parent company will be looked into in considerable detail.
"As far as we can access Cabinet Office assessments […] as well as local assessments of [financial viability], then we will make use of that – that would be something that wasn't available last time."
Lewis said the trust had received several expressions of interest from contractors and expected to reveal a shortlist later this month.