NHS trust behind Midland Met job says it plans to use Cabinet Office data when assessing bids
The boss of the NHS trust responsible for the Midlands hospital left in limbo by Carillion's collapse plans to use government information to judge the financial health of potential replacement contractors.
Chief executive of the Sandwell and West Birmingham Hospitals NHS Trust Toby Lewis said the financial health of any potential contractors will be scrutinised, with the trust hoping to have access to data gathered by the Cabinet Office.
Speaking to Building, Lewis said: "The financial viability of both the bidding company and any parent company will be looked into in considerable detail.
"As far as we can access Cabinet Office assessments […] as well as local assessments of [financial viability], then we will make use of that – that would be something that wasn't available last time."
But Lewis said it was unfair of critics to say the trust did not carry out due diligence when appointing Carillion, which was paid £205m for the job before going bust last year.
"We looked in some detail at their financial viability when their bid came in in 2015, and I'm not sure it would be fair to say that they were insolvent at that point," he said.
Lewis said the trust had received several expressions of interest from contractors and expected to reveal a shortlist in a couple of weeks, before naming a preferred bidder in July.
However, he said it was "entirely possible" there would only be one bidder who met the entry criteria.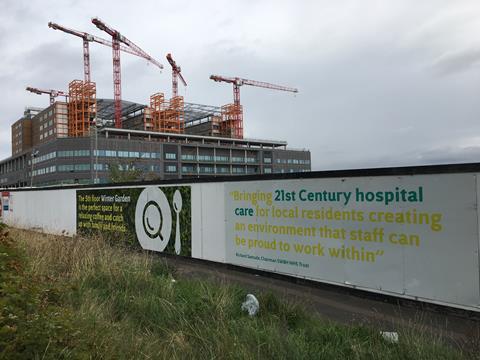 Lewis said the trust had managed to keep hold of most of the supply chain working on the scheme when Carillion imploded and that many of these suppliers had switched to working with Balfour Beatty, which is undertaking site remedial works on an early works contract due to finish in June, adding: "I would have thought [the supply chain firms] would work with whoever wins the final contract."
He said: "One of the reasons this scheme is attractive is that there is a supply chain largely in place. We are not mandating that it's used […] but one of the reasons this is a good risk for the building industry is that some of those relationships and systems and knowledge have carried forward from 2017."
The scheme is due to finish in 2022.