Social media groups formed to help find jobs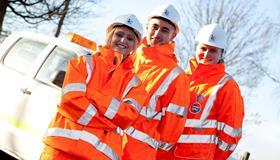 A Facebook support group for Carillion staff has attracted almost 1,300 members in just four days.
Called Carillion Colleagues Support – Employee led, the group was created by staff on Tuesday as a support network following the firm's collapse on Monday.
A closed forum – meaning people have to request to join or be added by a member – the group said: "The group has been set up to support colleagues in Carillion find new work, either through tips for CVs and interviews to sharing contacts and job opportunities.
"This is difficult time for all of us and we trust this group will be used responsibly. This is not an official Carillion site just an employee support group to help share potential opportunities for us to secure work."
A LinkedIn post promoting the Facebook group received more than 1,120 likes and close to 300 comments.
The post, from a former Carillion employee, said: "We have opened an internal network for Carillion staff who are now looking for work.
"If you are a potential employer you can inbox me with details of the vacancies you have including sector, location and contact details and I will post into the group, people can then contact you directly. Keep it short as things are fast moving so most people are using mobile phones to access the data we post. Thanks for your help, times are tough at the moment for us all here."
An update on this post thanked everyone for their support, with the request garnering 120,000 views and huge number of vacancies being passed on.
Among the comments were recruiters and staff from a host of companies passing on potential job opportunities as well as messages of support.
Included in the offers of work were vacancies at Laing O'Rourke, Interserve, HS2, Bouygues UK, Multiplex, WYG and Kier, as well as a number of other companies and recruiters.