Work involves creating home for new Reuben College
Morgan Sindall has been chosen by Oxford university for a £15m programme to build a new home for the university's first new college in three decades.
The firm beat Willmott Dixon and Midas to secure the contract to build Reuben College.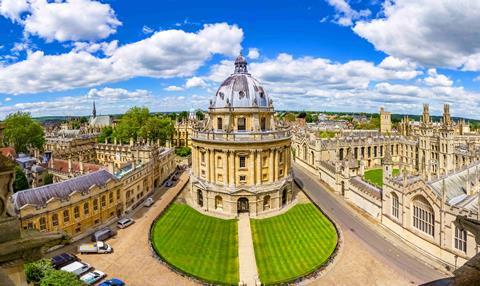 As part of the job, the company will give the grade II-listed Radcliffe Science Library (RSL) a makeover to turn it into the new college's common room and areas for quiet study, group meetings and social occasions.
The building includes the grade II-listed Jackson wing, built in 1901, the Worthington wing, built in 1934, and a large basement beneath the library's courtyard.
>> Also read: Big names beaten to turn Oxford power station into £60m business school
>> Analysis: How is the universities sector shaping up?
The redevelopment of the site will also include the adjoining buildings – the western wing of the Inorganic Chemistry Lab and Abbot's Kitchen and their connecting spaces.
As part of the project, the two-storey RSL basement will be converted into a teaching and research centre, which will have storage facilities for museum collections, as well as shared spaces for teaching and public engagement activities.
In addition, the new graduate society, known as Parks College, will be integrated into plans for the building.
Completion of the redevelopment is provisionally scheduled for the start of the 2021-22 academic year.