Blacklist Support Group says offer from Construction Workers Compensation Scheme "underwhelming"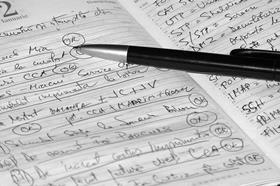 Negotiations between blacklisting campaigners and representatives of the industry's proposed compensation scheme have ended without agreement.
Trade union leaders and members of the Blacklist Support Group met yesterday with backers of the Construction Workers Compensation Scheme (CWCS), which represents eight major contractors that used the services of notorious blacklisting firm the Consulting Association - Sir Robert McAlpine, Balfour Beatty, Carillion, Costain, Kier, Laing O'Rourke, Skanska and Vinci.
Following the meeting however, Blacklist Support Group secretary Dave Smith suggested that the two sides were far from reaching any agreement.
"Just finished first set of talks about blacklisting compensation scheme," Smith wrote on the group's Facebook page last night. "Firms' offer was underwhelming. Our response was blunt."
Smith added that the meeting included 15 people "including lots of lawyers".
The Blacklist Support Group has been contacted for further comment.
When it launched in October, a statement from the CWCS said it was a genuine attempt to resolve the issue and would make it as "simple as possible" for those with legitimate claims to be compensated.
However, the scheme's suggestion that some blacklisted individuals should receive just £1,000 and its demand that workers withdraw existing claims as a condition of entering the scheme have been fiercely resisted by blacklist campaigners.
Back in November, Ucatt general secretary Steve Murphy described the scheme as a "travesty of justice" and the same month, a letter sent to the scheme's representatives by trade unions and the Blacklist Support Group argued that the scheme's key proposals did not go far enough given the "years of frustration that our blacklisted members have endured".
A CWCS spokesperson said: "The members of The Construction Workers Compensation Scheme are pleased that meetings with workers' representatives are underway…engagement with workers' representatives is designed to ensure the scheme is also as fair and effective as possible for their members.
"We are discussing the potential terms of the scheme, the administration process and the development of a code of conduct; however, we believe that in the interest of maintaining an open and on-going dialogue, the detail of the discussions should be confidential at the moment and we will not be commenting at this time.
"We are approaching these meetings in a positive manner and hope to reach a mutually agreeable conclusion as quickly as possible so that we are able to open the scheme up to applicants in early 2014."