Native Land behind new builds at site of Ludgate and Sampson Houses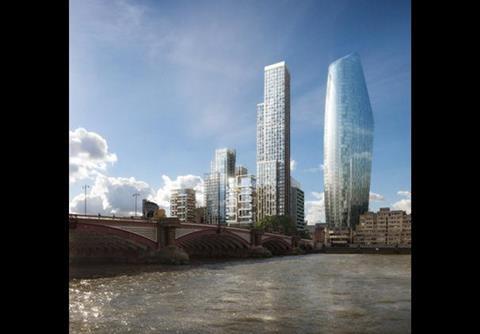 Southwark council has given the go-ahead to revised plans for the office element of Native Land's £1bn mixed-use scheme by Blackfriars Bridge on London's Bankside.
Designed by PLP, the nine building development spans the railway line coming into and out of Blackfriars station and will occupy the sites of Ludgate House, Building's former home, and Sampson House, a 1970s brutalist office building designed by Fitzroy Robinson & Partners.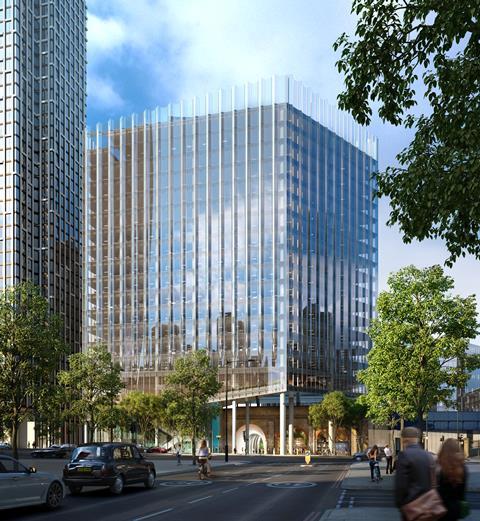 The scheme, which secured its original planning approval from the council in 2013, includes a 49-storey residential tower on the site of Ludgate House with a 13 storey residential building to its north and an office block to the south. The southern office block (pictured right) has had three extra storeys added to take it to 17 storeys in height.
On the site of Sampson House, the buildings to be constructed include a pair of 31 and 27-storey towers that will provide 218 residential units, as well as an office building which has been lowered by seven floors so that it now stands five storey's tall. Combined, the two office buildings will provide 262,000ft2 of office space in the 1.4m ft2 scheme.
Native Land said the changes would enable the two buildings to respond to growing demand for future-proof office space and appeal to a diverse range of business, from start-ups to major corporates.
"We aim to bring our experience in creating residential lifestyles to office development, at a time when work and workplace are lifestyle choices," said Alasdair Nicholls, chief executive of Native Land.
The Sampson and Ludgate House site was bought by a consortium comprising Native Land and Singaporean firm Temasek, HPL and Malaysian property company Amcorp Properties in 2016 from The Carlyle Group.
It is Native Land's second major Bankside scheme having already delivered Richard Rogers' designs for the Neo Bankside residential complex behind the Tate Modern in 2012.
McGee is expected to complete demolition of Ludgate House, which was opened by then prime minister Margaret Thatcher in 1989, this March.