Figure due to rise with host of foreign contractors set to land roles on railway
Less than 1% of HS2's spending on construction has been with overseas firms – so far.
The railway's minister Andrew Stephenson said just over £8m out of the £6.9bn spent in the six years to September 2020 has been with foreign firms.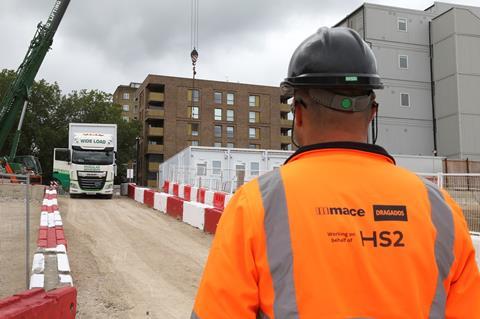 Replying to a written question in the House of Commons, he told MPs: "£8,163,809 has been spent with 23 companies registered outside of the UK. This equates to 0.12% of HS2 Ltd's total spend."
Stephenson added that around 1,960 UK businesses had worked on the project so far – equating to 98% of the firms who have worked on the railway.
But the amount of work foreign firms will carry out will rise significantly in the coming years with Spanish firm Dragados working with Mace on the scheme to rebuild Euston station while French giant Vinci is working with Balfour Beatty on a new station at Old Oak Common in west London.
Other overseas contractors working on the job include French firm Eiffage, which is part of a Kier and Bam Nuttall team, along with another Spanish firm Ferrovial, Austrian builder Strabag is part of a Costain/Skanska team, while another French giant, Bouygues, is part of Sir Robert McAlpine's Align joint venture team.
A £260m contract to manufacture slab track was awarded to Austrian firm PORR in October who will make it at a new factory in Shepton Mallett, Somerset. The firm is carrying out the deal with Aggregate Industries.
A host of overseas bidders are also chasing deals for track and M&E work, the shortlist for which were announced just before Christmas.
Meanwhile, the procurement for both the phase 2a main works design and delivery partner and phase 2b route wide ground investigations contractor is set to start within the next three months.
According to HS2's future contract opportunities table the two deals will both be worth between £250m and £500m each and both be awarded by the second quarter of 2022.
Phase 2a covers the construction of the route from Birmingham to Crewe, while phase 2b covers the legs to Manchester and Leeds respectively.