Exclusive: Further delay means PFI element of Priority Schools programme not expected to come to market until next year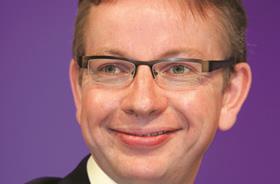 The government's flagship schools programme has been hit by further delays, with PFI-funded schools now unlikely to come to market until the first quarter of 2013.
Some batches of the 42 schools added to the £2bn Priority School Building Programme (PSBP) by education secretary Michael Gove in May are expected to come to market this autumn. But these are funded by £400m in additional direct capital grant not PFI – the procurement route originally intended for use across the whole scheme.
The first of the 219 PFI schools in the PSBP are not now expected to be tendered until next year – nearly a year later than originally scheduled.
Work through the PSBP was initially expected to be tendered in April 2012 so construction could begin in 2012 but, as Building first revealed in March, was pushed back to "late summer".
Industry figures said that the PFI schools would not be able to be tendered until the government finally published its review of PFI. The review – which has also experienced a string of delays – is not now expected until the autumn.
Ministers had previously insisted the Treasury's PFI review would not impact on existing PFI programmes, including the PSBP. But one industry figure said: "Clearly that's not the case. As that has been put back, so has the schools programme."
Richard Howson, Carillion chief executive, told Building that the contractor was expecting the first batch of directly-funded schools to come to the market in October, comprising a handful of schools in the North-east of England.
However, he said the first PFI schools would not be tendered until Q1 2013.
Earlier this month the Department for Education sought to calm fears that the school building programme was slipping again, insisting the schools would come to market in the autumn.
But when pressed this week on the delay to the PFI element of the programme, the department did not deny that the schedule had slipped until Q1 2013. Asked directly to confirm if the PFI schools would come to market this year, the department refused comment.
A DfE spokeswoman said: "Work continues with a significant number of the schools in the programme to progress their schemes ahead of their formal release to the market, which will take place in a managed way to ensure that the sequencing of building work is viable for those financing and delivering the schools."