Work on the £700m development expected to start by end of 2015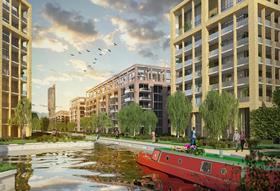 Developer Scarborough Group International has today revealed plans for its £700m Middlewood Locks project in Salford.
The company will develop Middlewood Locks, centred on three basins of the Manchester, Bolton and Bury Canal, through FairBriar International, its joint venture with China's Top Spring International Holdings and Singaporean developer Metro Holdings.
Scarborough received planning permission in March for the 2,000-home site, which will also provide around 750,000 sq ft for hotels, shops, offices, restaurants, a convenience store and a gym.
Scarborough is currently working on a planning application for the first phases of the development which will comprise 550 homes, around 29,000 sq ft of commercial space and canal side footpaths and cycle ways connecting to the city centre.
The application will be submitted in the third quarter of 2015, with a decision expected in the fourth quarter, which the developer expects will allow them to start work on site by the end of the year.
Part of the landscaping strategy is to connect the green spaces with the canal, incorporating a woodland theme.
Lee Savage, Scarborough's development director, said the development will be a "new business destination" for Salford and a "sought-after residential neighbourhood" due to its proximity to central Manchester and Media City.
Ian Stewart, Salford's city mayor, said the development "is one more step towards the extensive transformation of this part of the regional centre which will enable the cities of Salford and Manchester to deliver the growth necessary to meet the economic challenges we face at a national level."