Scheme is for Northern Estate programme which will be precursor to Palace of Westminster overhaul
A series of planning applications for parliament's Northern Estate programme have now been submitted to Westminster council.
The plans, which are for buildings that run along Parliament Street and Whitehall, including the grade II-listed 54 Parliament Street, the grade I-listed Norman Shaw North building and the grade II*-listed Richmond House, are the first step to enable the restoration and renewal of the Palace of Westminster as they include a new temporary House of Commons debating chamber.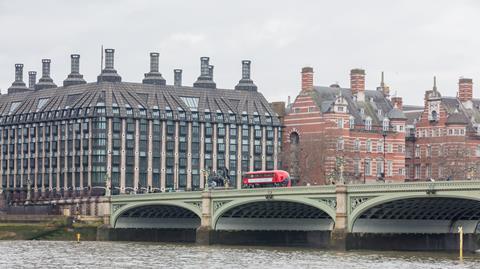 Wates was appointed to a £500m contract to carry out the bulk of this work in May last year.
The temporary chamber will be built at a revamped Richmond House, the former Department for Health building at 79 Whitehall which the ministry left in November 2017.
This job will be carried out by Lendlease, with architect AHMM responsible for the design.
A public consultation was launched on the proposals in May which has seen a security pavilion planned for the front of the building moved inside after complaints from conservationists it would block views of the building which was completed in 1986.
Work on the Northern Estate is set to begin next year ahead of work on the Palace of Westminster starting in the mid-2020s.