Railway says it has set up a group to overcome issues
Limited and restricted access for contractors is putting the delivery of Crossrail at risk, according to Jacobs.
Just last week the National Audit Office warned that there was not enough cash in the budget for Crossrail to finish – saying the £825m the scheme was handed at the end of last year was still £120m short.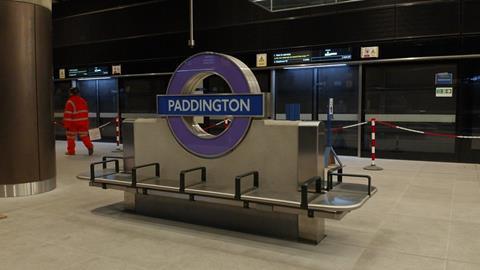 In its latest report, which covers April, Jacobs said difficulties with control and implementation of railway access were the main threats to the work completing in time for its revised opening date.
Rules around contractor access to stations, the track and tunnels became more difficult when the project transitioned into an operational railway back in the spring when trial running began.
Jacobs, who is keeping an eye on the project for sponsors Transport for London and the Department for Transport, said: "Difficulties with access to track and station equipment rooms have been a common feature this period, and continue to pose a significant threat to completing the works; while being addressed, long term improvements will be slow to emerge.
"Stations delivery has also been impacted by the access difficulties, with particular delays affecting Paddington, Bond Street, Canary Wharf, Liverpool Street and Woolwich stations."
> Crossrail's spiralling budget in graphs and charts
> Mark Wild interview: why Crossrail will be worth the wait
In its report for April, the consultant warned that these delays were compounding problems over slippages in the schedule.
Responding, Crossrail chief executive Mark Wild conceded there had been access issues but the scheme was addressing the issues raised.
He said: "Access metrics as well as a single integrated Access Control Unit is being put in place; the latter will manage all access requirements between RfLI [Rail for London (Infrastructure) which becomes responsible for managing the infrastructure once it is handed over] and Crossrail including delivery, maintenance and operations."
The project is currently due to open by June next year, having originally been due to open in December 2018.