Competition for staff has pushed average pay for partners and directors at London QS firms to six figures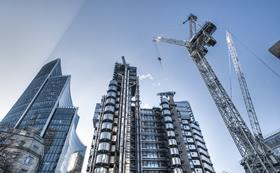 Partners and directors at QS firms in London are now bringing in six-figure salaries as consultants across the board enjoyed inflation-busting pay rises last year.
Building's salary survey of key professional construction industry roles, compiled with data from recruitment firm Hays, shows the average pay hike across seven groups of professions was 2.6% – down a fraction on the 2.8% of a year earlier.
But the figure still means the salaries of construction consultants are rising significantly more than the 1.9% average rise in wages found by Hays across the whole economy – and at a faster pace than the current 2% rate of inflation.
Richard Gelder, built environment director at Hays, said: "You look at the news and you'd get the impression the world is ending. But actually we're still pretty much at peak market. For most it feels like business as usual."
But it is partners and directors at QS firms in London who are enjoying bumper pay packets, raking in an average of £100,000 after their salaries grew 8% in the past year.
And many are earning well in excess of that as staff cash in on a market still buoyant and generous bonus schemes. One source at a London QS said: "At partner director level, the salary range in London would be £85,000 going up to £130,000."
He said QS firms tend to pay between 3% and 10% of a partner's salary in bonuses but admitted this can cause some firms headaches as staff rush to bring in new business to hit targets.
"A lot of firms have a very formulaic point-scoring method to determine what bonuses should be paid," he said. "One of the most obvious ways to measure performance is winning work. But then people go off and win work and sometimes you're landed with clients you don't want to touch."
Salaries at director and partner level for all QS firms across the UK were up 3% to just over £73,000, making it the best-paid job of those roles surveyed – nearly £3,500 more a year than their peers in the next best-paid profession, building surveyors.
Another source at a QS firm said competition for staff is fierce, especially in London, meaning pay packets are distorted and people are overpromoted to keep them.
"It might keep people satisfied to get a title but it's a risky strategy. If a client is giving that person a hard time in a meeting and if they don't have enough experience, then they're exposed."
Finding and keeping staff is an ongoing problem for all consultants, with Ridge looking at taking staff numbers up from 620 to more than 650 by the year end while Mott MacDonald has 800 vacancies in its 6,500-strong EU business – around 90% of which are for UK roles.
But despite outstripping the national average wages rise, last year's increase of 2.6% for consultants was the lowest since 2014 and less than half the 5.5% hike consultants picked up in 2015.
Read the full results of this year's consultants salary survey online tomorrow