Consortia containing Balfour Beatty, Carillion and Amey in finishing straight for M8 bundle of road works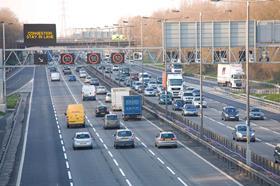 Two consortia containing contractors Balfour Beatty, Galliford Try and Amey have been shortlisted for a £415m bundle of road works in Scotland.
The teams are bidding to undertake improvements to the M8, M73 and M74 in Scotland.
The development sees the race narrow from four consortia, shortlisted last June, to two.
The Connect Roads consortia, consisting of Balfour Beatty, Galliford Try and Carillion, will now face-off against the Scottish Roads Partnership, comprising Amey and Lagan.
Deputy first minister Nicola Sturgeon said she expected the scheme to support 900 jobs.
She added: "Today again we're taking another step in the delivery of a critical construction contract. In these times of unprecedented Westminster cutbacks, support for the hard-pressed construction industry plays a key part in our vision of a wealthier, fairer and a better connected Scotland."
Work on the project is expected to start in late 2013 for completion by 2017.