Heritage group challenges mayor after intervention on Spitalfields redevelopment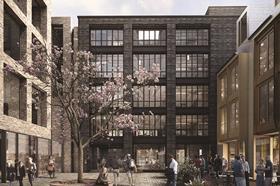 The heritage group trying to stop AHMM's plans to redevelop Norton Folgate in Spitalfields has accused London mayor Boris Johnson of acting unlawfully in the way he called the scheme in when local planners turned it down.
The Spitalfields Trust said it has launched a bid for a judicial review challenging the mayor's decision to intervene. It claims the move was "predetermined", with the mayor's office having told consultants working for developer British Land that he would call it in just a day after Tower Hamlets refused it planning.
The trust says information obtained under the Freedom of Information Act shows Johnson had effectively decided to call in the application on 10 September last year just hours after he received Tower Hamlets' letter and associated documents informing him of its decision. But a spokesman for the mayor insisted he had acted correctly.
Johnson is due to make a decision on Norton Folgate next Monday.