Contractor appointed by Camden council to build new Bacton Low Rise estate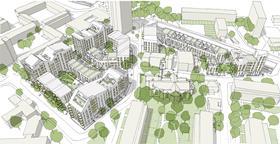 Contractor Rydon has been appointed by the London Borough of Camden for a £50m estate redevelopment in Gospel Oak.
The firm has been chosen to carry out the regeneration work at the Bacton Low Rise estate, which is being procured through a two stage tender process that will culminate in a fixed price being submitted in January 2014.
The scheme, designed by Karakusevic Carson Architects, involves the full demolition of the estate, which suffers from "inefficient design and is in poor condition", to make way for 290 new homes comprising 176 for private sale, 104 for affordable rent and 10 for shared ownership.
Other improvements include a new and altered public realm, landscaping, vehicular and pedestrian links as well as three new retail units.
Rydon Construction managing director Mark Mitchener said: "Our appointment to Bacton reflects Rydon's reputation in the consultation, design and delivery of first class community regeneration.
"Local residents have put an enormous amount of effort into the plans so it is particularly pleasing to be able to bring their vision to life, as well as delivering wider employment and training opportunities to the area over the coming years."
Bacton Low Rise Tenants and Residents Association has led the redevelopment since 2011 and worked with the council to select the architect for the initial designs.
The development falls within Camden's Community Investment Programme (CIP), a 15-year plan to invest in schools, homes and community facilities. By redeveloping or selling buildings or land that are underused or expensive to maintain.
Cabinet Member for Housing Cllr Julian Fulbrook said, "This is a huge step in the regeneration of Gospel Oak, as this is the first time we have been able to build new council homes for rent for nearly 20 years."
Rydon is also working on a number of other London estate regeneration projects including the £130m reworking of the Packington Estate in Islington in a partnership with housing association Hyde.
Demolition at Bacton Low Rise estate will start this month with construction commencing at the end of 2013, which will be staged across three phases and built to Code for Sustainable Homes Level 4. The project is due for completion at the end of 2017.