Specialist contractor will support Carillion in the expansion of Liverpool FC's stadium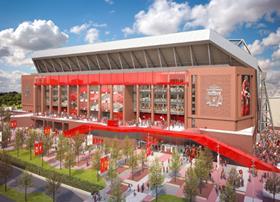 Steelwork contractor Severfield has been appointed to work on the expansion of Liverpool football club's Anfield stadium.
Severfield will work with main contractor Carillion on the project, which will add around 8,500 seats to the main stand, increasing the stadium's overall capacity to 54,000.
The project is scheduled to complete in the third quarter 2016.
In a statement to the City this morning Severfield said the Anfield contract was one of several major contracts it has won in recent weeks, with recent wins totalling £43m.
Other, unnamed, projects won by Severfield include three commercial office schemes in London, a distribution centre in the Midlands and a waste-to-energy plant in Dublin.
Ian Lawson, chief executive of Severfield, said: "We are delighted to announce these multiple contract wins. It continues the momentum we've established in recent months, and all of these new contracts are in sectors where we have a strong market share or are seeing positive future trends.
"We are thrilled to be working for Carillion on such a high profile project as Anfield, especially as stadia is a sector where we have a demonstrable track record."