Cleveland Bridge order to pay rival firm Severfield-Rowen £824,478 in damages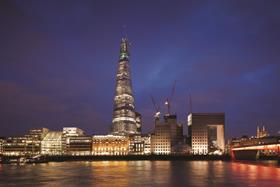 Steelwork specialist Cleveland Bridge has been ordered to pay £824,478 in damages to rival firm Severfield-Rowen for delays and defects during its work on London's Shard skyscraper.
Severfield-Rowen – the main Shard steel contractor – subcontracted Cleveland Bridge to fabricate and supply steel for the first nine levels of the 72-floor tower.
The High Court ruled that Cleveland Bridge took on "more work than it had the capacity to deal with" and was responsible for delaying steel erection work on the project by a total of 38 days.
The judge Mr Justice Aitkenhead also accepted the view of a Severfield witness that there was "a very high level of poor workmanship" in the steel delivered by Cleveland Bridge.
However, the judge ordered that Severfield pay Cleveland Bridge £928,472 plus VAT in outstanding fees due under its subcontract, which Severfield had withheld pending resolution of the dispute.
The judgement also reveals Severfield-Rowen hit other delays on the project, resulting in a total delay of 56 days by level ten of the steelwork.
This delay extended to nine weeks by completion of steelwork to level 40 on 6 December 2010 – despite Severfield-Rowen's attempts to recoup lost time by extending working hours.
Severfield-Rowen faced liquidated damages to the Shard's main contractor Mace of £500,000 a week, according to the judgement.
Severfield-Rowen issued two profit warnings last year. The first in June warned of operational overruns of £1.6m on two unnamed "complex" projects in the UK, while in November it blamed cost overruns on a "small number of contracts". The firm has not disclosed what contracts contributed to the profit warnings.
Cleveland Bridge said it would not appeal the verdict. Severfield-Rowen declined to comment.