Weekend email tells staff that administrator will be appointed this morning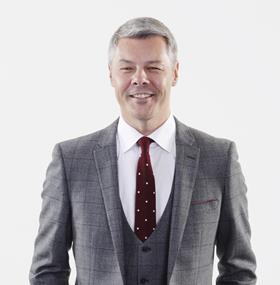 Update: Over 200 jobs lost as Shaylor Group goes into administration
One of the country's best known regional contractors is set to go into administration later today, ending nearly five decades of trading and leaving close to 250 people without jobs.
In an email sent to staff yesterday morning, West Midlands-based Shaylor Group said it had been brought to the brink of collapse by "a number of project delays, payment disputes with clients and the failure of several key subcontractors". It added these had had a "severe impact on the group's cashflow in recent weeks".
The email, seen by Building and signed by executive PA Sharon Goodwin on behalf of the board of directors, said the firm, led by chief executive Stephen Shaylor (pictured), had been in talks until Saturday night about a rescue deal.
But shocked staff were told: "Whilst some tangible interest was shown by a number of parties, due to their concerns around the construction industry as a whole, attempts to raise additional funding were unsuccessful. The directors have therefore taken the very difficult decision to place Shaylor Group Limited into administration."
It said the administration of the contractor, which is based at Aldridge near Walsall, "is likely to take place early on Monday".
The firm is understood to have been facing problems for several months and in April windows and doors manufacturer Burckhardts Glide said its sister business Ecohaus UK was owed money by Shaylor with invoices dating back more than half a year.
Our sister company @ecohausuk is a subcontractor for Shaylor Group and are currently owed invoices which are now over 6months old and they are being ignored and blocked on twitter. They are not the only subcontractor in this position.

— Burckhardts Glide (@BurkhardtsGlide) April 25, 2019
Staff contracts are held by a separate company called Shaylor Management Services which will go into a creditors' voluntary liquidation with all staff set to be made redundant over the next couple of days. A handful will be kept on to help out with the administration.
Building also understands that monthly salaries due this Wednesday will not be paid.
Staff took to social media sites to express their reaction to the news with Brian Smith, an M&E manager at the business, saying: "Good luck to all my former colleagues at Shaylor Group. I hope you all secure the new opportunities that you deserve."
But Rich Pugh, a project quantity surveyor at the firm, criticised the "shameful behaviour" of the company directors, adding: "All the hard work and loyalty shown by its staff will go unrewarded."
In the email, staff are asked not to come to work at its two offices or its sites – which include a new housing scheme in east London for developer Pocket Living and a sports museum at the Silverstone motor racing circuit in Northamptonshire – while those with company cars have been told not to use them because the group's insurance policies will finish once the administrators have been appointed.
In its last set of accounts for the year ending September 2018, the firm posted a £142m turnover, flat from the previous year, with pre-tax profit up 9.5% to £7.6m.
Staff numbers stood at 244, up eight from the year before, while the firm's seven directors split £1.2m between them with the highest-paid director, who is not named, picking up £340,000.
In the accounts, which were signed off just under three months ago by Stephen Shaylor, the firm said of its future: "Our focus will be on blue chip clientele and organisations with strong balance sheets and financial strength that mirror our own credentials. Strategically, we have made the decision to no longer trade with organisations that do not possess corporate attributes or lack financial integrity."
Last week it emerged Shaylor filed a letter of intent to appoint an administrator to protect itself from subcontractor claims while it held talks with financial backers. The head office telephone was on voicemail on Friday due to "experiencing a high volume of calls".
Shaylor was ranked 122nd in Building's 2018 Top 150 contractors and housebuilders, rising 10 places on the previous year.
Its other jobs include frameworks for the Ministry of Justice and the City of London while two years ago it was appointed to the Government Hubs Programme along with eight other firms to complete the fit-out of new offices for HMRC across the UK.