Club promises another update after confirming Arsenal game is off to Wembley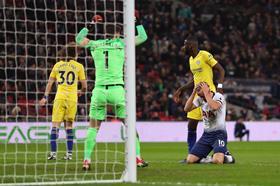 Tottenham Hotspur has only five home league games left in which to open its new stadium before the Premier League season finishes in May.
In another update on the late-running scheme's progress, the club said the 62,000 seat ground would not be ready in time to host its fixture against north London rivals Arsenal on 2 March.
It means the club will have played 14 of its scheduled 19 home league games at its temporary base of Wembley stadium.
Mace had been due to get the ground ready in time for the visit of Liverpool way back in the middle of September but a month earlier the club was forced to concede it would miss that deadline.
Mace blamed faulty wiring for the delay and since then Spurs has put out a number of bulletins telling fans the stadium is still not ready.
Back in August, Mace chief executive Mark Reynolds told Building: "Issues with critical safety systems were identified. This is linked to the fire detection contractor encountering higher than usual electrical wiring faults."
In the latest update, the club said remedial works on the safety systems in the new stadium had still not finished.
But it said they "are near completion and we shall then move forward to the final stages of testing the fire detection and alarm system and its integration with the other safety systems.
"The success of this testing is critical to our ability to obtain a safety certificate and open the stadium."
Spurs chairman Daniel Levy admitted: "These next few weeks are pivotal."
Building understands that more than 1,000 workers are still on the job – down from the 2,000 who were working there back in the autumn – finishing off remedial work on the last of the 12,000 fire alarms that have had to be inspected.
The club's next home game after Arsenal is against Crystal Palace on 17 March – six months after the first game at the new ground was due to be played.
Spurs, which is required to hold two test events, likely to be over a two week period, before the new stadium can open, said it would provide another update "in due course".