The Southbank Centre will review Feilden Clegg Bradley's £120m revamp amid rising opposition to the scheme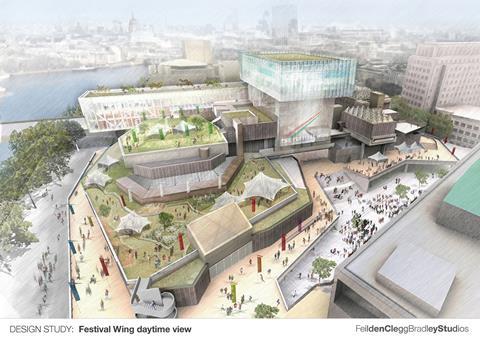 The Southbank Centre has agreed to review its £120m revamp amid rising opposition to the scheme and a concerted campaign from skateboarders.
In a statement today, the Southbank Centre said it has asked Lambeth council to pause the planning process so it could review the Feilden Clegg Bradley-designed scheme.
The planning application had been due to go to the council's planning committee this autumn.
The news follows a letter from Nicholas Hytner, director of the neighbouring National Theatre, to the council objecting to the scheme.
Earlier this week Cabe published a design review in which it criticised a number of aspects, with the design watchdog urging the Southbank Centre to give the architect Feilden Clegg Bradley more time to resolve the issues.
The revamp has also been opposed in high-profile campaign by skateboarders, after the plans proposed the removal of the popular skateboarding area on the site.
In a statement issued today, the Southbank Centre said: "At Southbank Centre we believe passionately in finding ways for as many different people as possible to become involved in arts and culture and to feel welcome on our site.
"The Festival Wing project has huge potential to reach out and change the lives of thousands of local children and young people who currently have very few opportunities and to give new space to the widest range of community arts.
"But we also want our skateboarders, street writers and BMXers to continue to think of this as their home.
It is for this reason that we have asked Lambeth council to allow us more time to review whether our scheme is achieving the very best balance of opportunities for current and future generations, and they have agreed to this.
"Over the next few weeks we will work with our communities to find the best way of balancing everyone's needs in demanding financial times so we can achieve this ambitious project."