Game on 13 January will now be played at Wembley as club waits on progress report from contractors
Spurs has said that its new stadium will now not be ready for its game against Manchester United in the middle of next month – with the club still saying it doesn't know when the ground will open.
In an update on the progress of the 62,000-seat ground, being built by Mace, the club said the game against United was now being switched to its temporary home of Wembley stadium.
The club had ringed the fixture as its opening game at the stadium after the original inaugural match, against Liverpool on 15 September, had to be put back because of safety issues.
Building revealed these centred on faulty wiring and it is understood remedial work has centred on around 12,000 fire alarms at the ground with around 400 being checked a week.
Spurs said it was due to receive a status report from its contractors the week beginning 7 January with chairman Daniel Levy promising a an "update thereafter".
Explaining the decision not to put an opening date on the new ground, Levy said: "What I don't want to do is set any firm dates until we have finally achieved a safety certificate. So many people tell me to look at other major schemes that run late and, whilst I know it happens often, we are still hugely frustrated."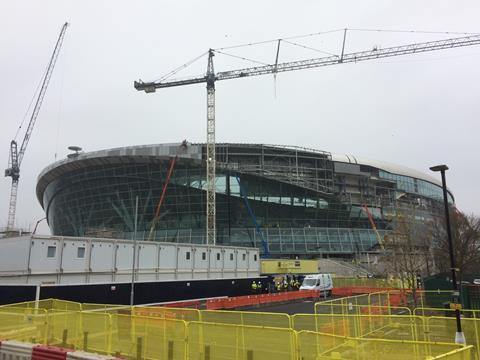 The news means the club will have played more than half of its home Premier League games at its temporary home. Its next home league game after Manchester United is Watford on 30 January.
In the update, Levy said progress at the site, where two tower cranes still remain, had been "steady" and added: "We are now into the integrated testing and commissioning phases that take place ahead of the application for a stadium safety certificate.
"Testing is being conducted both during the day and night and our contractors will continue to work during the Christmas period. Barring no further significant issues we should then be in a position to schedule Test Events."
The club needs to schedule at least two test events before the ground opens.
The club, which has booked Wembley for the whole of the season, has two home league games in February as well as a Champions League fixture.
Provided the club progresses to the fourth round of the FA Cup, the club could be handed a home fixture in the competition with this round of games due to take place the weekend of 26 January.
And if the club beats Arsenal in the quarter finals of the League Cup, the two-legged home and away semi finals of this competition are due to take place the week beginning 7 and 21 January.
Homeward bound – who might Spurs' opponents be for first game?
| Date | Competition | Opposition | Stadium |
| --- | --- | --- | --- |
| 15 December | Premier League | Burnley | Wembley (confirmed) |
| 19 December | League Cup quarter final | Arsenal | Away |
| 23 December | Premier League | Everton | Away |
| 26 December | Premier League | Bournemouth | Wembley (confirmed) |
| 29 December | Premier League | Wolverhampton | Wembley (confirmed) |
| 1 January 2019 | Premier League | Cardiff | Away |
| 4 January | FA Cup third round | Southport or Tranmere | Away |
| w/c 7 January | Potential League Cup semi-final first leg | TBC | Home/Away |
| 13 January | Premier League | Manchester United | Wembley (confirmed) |
| w/c 14 January | Potential FA Cup third round replay | TBC | Home |
| 20 January | Premier League | Fulham | Away |
| w/c 21 January | Potential League Cup semi-final first leg | TBC | Home/Away |
| Weekend of 26 January | Potential FA Cup fourth round | TBC | Home/Away |
| 30 January | Premier League | Watford | Currently scheduled for Tottenham Stadium - TBC |
| 2 February | Premier League | Newcastle United | Currently scheduled for Tottenham Stadium - TBC |
| w/c 4 February | Potential FA Cup fourth round replay | TBC | Home/Away |
| 9 February | Premier League | Leicester City | Currently scheduled for Tottenham Stadium - TBC |
| 12/13 or 19/20 February | Champions League last 16 first leg | TBC | First leg at home as Spurs finished second in their group |
| Weekend of 16 February | Potential FA Cup fifth round | TBC | Home/Away |
| 23 February | Premier League | Burnley | Away |
| 27 February | Premier League | Chelsea | Away |
| 2 March | Premier League | Arsenal | Currently scheduled for Tottenham Stadium - TBC |