Developer reports solid half-year results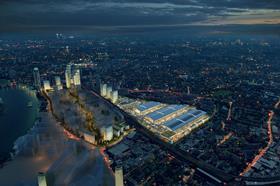 St Modwen increased its development pipeline and grew revenue and pre-tax profit in its half-year results to 31 May 2014.
The developer is progressing several major schemes, including the £2bn redevelopment of London's Covent Garden Market (pictured), the £1bn regeneration of the former MG Rover site at Longbridge, and a £450m Bay Campus for Swansea University.
St Modwen said it was "increasing commercial development pipeline across the UK reflecting the gradual, overall improvement of this market".
The developer reported a 73% increase in revenue to £110.1m for the half-year, with pre-tax profit also up 33% to £50.3m.
St Modwen's housing arm agreed or completed seven land sales during the period representing 43 acres and £40m of development value and is targeting further land sales in the second half representing 70 sites and circa £80m of development value.
Bill Oliver, chief executive of St. Modwen, said: "Against a backdrop of improving optimism across the country, we are prudently increasing our pipeline of development activities and actively pursuing new opportunities to meet growing investor interest and occupier demand.
"Whilst we are still some way from a wholesale UK recovery, confidence is starting to return to the regions.
"Here our traditional engine of growth, commercial development, is beginning to gain momentum with over 1m sq ft of regional commercial projects in progress.
"This combined with our improving valuations particularly in the residential sector, underpin our confidence for continued outperformance as we work towards the full year."