Architect posts 7% rise in pre-tax profit after cutting jobs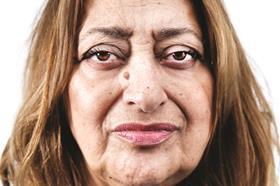 Staff cuts at architect Zaha Hadid helped boost pre-tax profit by 7% in its last financial year, the firm's accounts reveal.
In accounts filed at Companies House, Zaha Hadid Limited reported a pre-tax profit of £1.8m for the year to 30 April 2012, up from £1.7m the year before.
In the accounts the firm's founder and director Zaha Hadid said staff cuts of 15% had helped reduce costs. "This [profit rise] has been achieved by the cost saving in reducing the staffing levels of the company," she said.
However, she also went on to say one of the principal risks to the firm was recruiting and retaining staff "of the appropriate experience and calibre".
The firm reported an average of 304 staff for the year, down from 357 the year before.
The architect also reported a 20% drop in turnover from £43m in its 2011 financial year to £34m in 2012.
The firm saw a dramatic downturn in work from the Middle East falling from £20.6m in 2011 to £7.7m in 2012. However, it did win its first contract for work in Iraq, Hadid's country of birth, to design the CBI Headquarters Building in Baghdad.
Revenue from the UK also fell from £5.6m in 2011 to £4m in 2012.
But revenue in Asia grew from £6m to £13m over the period.
Hadid was optimistic about the firm's future. She said: "Managing its resources in line with clients requirements and continued assessment of skills has placed Zaha Hadid Limited in a very competitive position."
She added that she expected there would be further growth in new markets in future.