Firm opened for business last September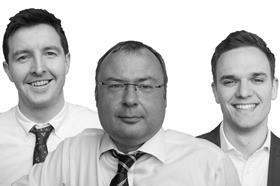 Start-up consultant Mesh is set to exceed £600,000 turnover in its first year of business.
The firm - set up by former Aecom directors Martyn Stokes, Tim Molden and William Hare - opened for business last September and is already tracking around 10-15% ahead of its business plan, which set a £600,000 turnover goal for year one.
Speaking to Building, Hare said the five-strong firm is aiming for a quick growth spurt this year and could be 10-strong by the end of this year.
Mesh has also struck an alliance agreement with cost consultant Alinea, under which it will help its former Aecom colleagues with any large-scale health-related work.
Mesh is focused on three key areas - healthcare, headed by Molden; leisure, led by Hare; and office fit-out, overseen by Stokes.
The Mesh team has worked together within the healthcare sector for about 10 years. They split from Aecom last year as they wanted to remain focused on "what we're good at" and on projects that are "numerous in number, but smaller in size with fast turnaround times," Molden said.
Hare said that for the time being Mesh wants to focus on growing its leisure and health sectors, but will look to expand into the retail sector in time.
Mesh now has 56 projects on the go, 32 of which are on site. Clients include the Homes and Communities Agency, Nuffield Health, Vodafone and Aecom, which they continue to support.
Alinea co-founder Iain Parker commented: "Having been friends for many years, we are pleased to support the launch of Mesh and our collaboration agreement with them allows us to broaden our sector coverage.
"Our shared heritage means we have the same values and approach to work, which is why we are very confident about our future plans together."