Second-placed Allies & Morrison also appointed to masterplan a major development in the centre of Maidenhead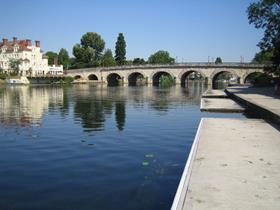 Studio Egret West has won the RIBA competition to masterplan a £200m development in the centre of Maidenhead ahead of the arrival of Crossrail in the town.
The architect will also be lead designer on the Broadway project which will include retail, commercial, offices and residential buildings plus parking and a new public plaza.
Runners-up Allies & Morrison were highly praised by the judges and have been chosen to do a major building within the scheme.
The pair beat fellow finalists Eric Parry and Rick Mather.
The new scheme is intended to improve links with the Nicholson Shopping Centre and car park, the high street and Maidenhead railway station which joins the Crossrail route from 2019.
David West, partner at Studio Egret West, said: "We aim to inject new life into the heart of Maidenhead.
"Our ambition for this pivotal site in Maidenhead is to seamlessly weave high-quality homes and workspace, well-orientated eating, drinking and specialist retail into the fabric of the town. Working with traditional materials with a contemporary twist, we propose a family of noble buildings, clustered in pairs around a central square and flexible forum building providing a community focus."
Sarah Williams of S Williams Architects, who was RIBA adviser on the competition, said: "The masterplan addresses many of the key design challenges posed by the brief and will, no doubt, provide a thoughtful, elegant and playful development, very much embedded at the heart of Maidenhead."
An outline planning application is expected to be submitted later this year.