Former employees of bust firm to continue working on road jobs the pair were carrying out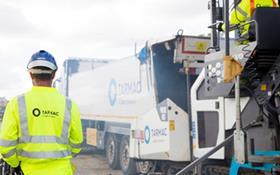 Tarmac has nabbed 45 former Carillion employees, including two apprentices, to work on a number of road schemes the pair were carrying out across the country.
And the firm said other former Carillion employees who have been made redundant should keep an eye on the company's job vacancies and make contact if they have relevant skills, particularly in quantity surveying and project management.
All of its new employees have been working on Carillion/Tarmac joint venture projects including the Finningley & Rossington Regeneration Route Scheme near Doncaster in South Yorkshire, the A50 Growth Corridor at Uttoxeter in Staffordshire and the Eastern Highways Alliance covering jobs for a number of local authorities in the East of England.
Martin Riley, senior vice president at Tarmac, said: "As a former apprentice myself, it's particularly pleasing to be able to welcome some apprentices, especially as our 2018 apprenticeship scheme is about to be launched." The 2018 scheme, which offers one to four-year dedicated training programmes across all parts of its business, begins next week.
According to the most recent update from the Official Receiver, 8,066 jobs at Carillion have been saved, while 1,371 have been made redundant since the company went bust in the middle of January.
Carillion was spun out of the old Tarmac, which included construction and aggregates operations, back in 1999. Later that year, Tarmac was bought by mining giant Anglo American for £1.2bn. It is now owned by Dublin-based materials firm CRH.