HMRC issues winding-up petition against subsidiary company of troubled firm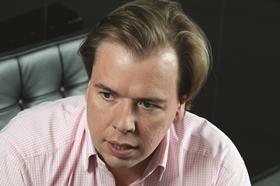 Architect RMJM has been hit by a winding-up petition from the taxman against one of its subsidiaries in a blow to the firm's latest attempt to draw a line under its long-running cashflow crisis.
The petition, from HM Revenue & Customs, is against RMJM 2012 Ltd and was granted by Edinburgh Sheriff Court last Friday amid what HMRC said was a failure to pay more than £70,000 worth of income tax deductions and social security contributions.
The news follows the announcement by RMJM last week that it had placed three of its subsidiary companies in receivership shortly before all contracts were acquired by RMJM Architecture Ltd, in a pre-pack deal it said would secure 120 UK jobs.
At the time of the transaction, the three companies – RMJM Ltd, RMJM London Ltd and RMJM Scotland Ltd - owed a combined total of more than £400,000 to creditors in county court judgements (CCJs), £122,000 higher than the level owed just two months ago.
The petition, obtained by Building and expected to be advertised in the Scottish press shortly, said HMRC was owed £42,000 of tax for the period between April and July this year and £28,000 for the last tax year plus interest.
It said HMRC had written to the company's Edinburgh office in early September warning of a winding-up petition but that "no payment of any part" of the sum had been paid.
"The company, being unable to pay its debts … should be wound up by the court and an interim liquidator appointed," the petition concluded.
Granting the petition, the sheriff said that it would now be served on RMJM with the architect and other interested parties given eight days to "show cause why" the company should not be wound up.
According to a search carried out on Tuesday by official records organisation the Registry Trust, RMJM Ltd, RMJM Scotland Ltd and RMJM London Ltd had a total of £416,331 worth of unsatisfied CCJs before they ceased trading. This compares with the £294,165 they owed in CCJs at the end of August.
Over the past few months, RMJM has also faced an official inquiry into alleged withholding of pension contributions in the UK, which is now understood to have been resolved.
A RMJM spokesperson said: "A petition was served against RMJM 2012 Ltd, a non-trading subsidiary entity last Friday, and it is in the process of being liquidated … This is part of the restructuring process which happened last Friday."