Morgan said he had not yet been formally told he would lose his position at both Crossrail and HS2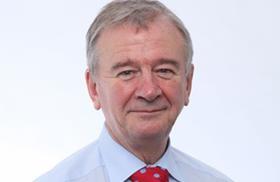 Sir Terry Morgan is preparing to be axed from his positions at both HS2 and Crossrail after reports leaked to the Financial Times suggested chancellor Philip Hammond and transport secretary Chris Grayling have been lobbying Theresa May for his dismissal.
Morgan (pictured), who was named chair of HS2 in July and has held the same position at Crossrail since 2009, said he now expects that announcement to be formalised in the coming days.
Speaking to the BBC Radio 4 PM programme on Saturday he said: "I did get confirmation late yesterday afternoon that that was a leak.
"As far as I'm concerned, I'm expecting that to be confirmed more formally in the next few days."
Morgan said while he not yet told the reason for his impending dismissal he said he felt the performance of Crossrail had raised doubts about his abilities.
He said: "I can only presume, as I have not yet been told, that because HS2 is such a critically important programme and with a sense of disappointment around the performance of Crossrail that it was considered to be too risky for a programme like HS2 to continue in my role as chairman."
Morgan challenged accounts of when delays were first reported to London mayor Sadiq Khan, saying Crossrail brought up the need to delay completion from 2018 to 2019 a month before it was publicly revealed on 31 August.
"There's been some unfortunate comment about who knew what and when about whether the programme on Crossrail was running late.
"I'm very confident that Crossrail behaved properly. There will be and there are plenty of documents that set out exactly what happened and when.
"And I do hope that these documents will be released soon for others to understand. I don't understand why all the comments that have been made, have been made as they are, because some of them are just factually not correct."
He said these documents were presented to the mayor and Transport for London on July 26, 2018, and said delivery in 2018 was "impossible".
Khan has been outspoken about his belief that he did not mislead the public about when Crossrail would be delivered, saying he "continue[s] to have significant concerns over transparency on the project and the effectiveness of Crossrail's governance".
Morgan also threw some of the blame at TfL saying: "Obviously it's insinuation that says in the detail, although the station build did run a little late, what most people don't realise is that the rolling stock, the trains, are a contract that is not a Crossrail contract, they're a Transport for London contract, I'm not responsible for the rolling stock and nor are any of the executive.
"I personally now realise that TfL were advised that this train contract was running 18 months late and had known that for at least eight months and that to me, today, still feels to be the case.
"We still have not got train testing underway."
A TfL spokesperson, said: "Crossrail Ltd is responsible for the completion of the new railway, including integrating signalling and railway systems. The trains are already successfully serving parts of the Elizabeth line route in the east and the west.
"Their procurement has had no bearing on the fact that the completion of the line, including tunnel fit out, the new stations and a range of safety critical railway systems was not completed in time by Crossrail Ltd for a December opening.
"Work on stations and other vital infrastructure is progressing, but remains at varying degrees of completion, as reported by Crossrail Ltd to the TfL Board last month."