Mike Brown also quizzed over designer Heatherwick's role in debacle which wasted more than £40m of taxpayers' money
The man at the helm of TfL said he was not aware Bouygues had been signed up to build the Garden Bridge until the contract had already been let.
A joint venture led by the French contractor and featuring Italian steelwork firm Cimolai was appointed preferred bidder for the doomed project back in May 2015.
Mike Brown became Transport for London's commissioner the same year Bouygues was signed up to build the £175m project.
TfL and the Treasury pumped more than £40m of taxpayers' money into the scheme which was eventually pulled by London mayor Sadiq Khan nearly two years ago.
Speaking at a London Assembly inquiry into the project, Brown said: "I wasn't aware when they [Bouygues] were about to [sign] but I was aware when they had done so.
"It was one of the reasons that were communicated to me as to why people felt there was confidence the project would go ahead."
Asked by the chair of London Assembly's Garden Bridge working group Tom Copley whether TfL should have had oversight of the contract Brown admitted: "There are a lot of things with the benefit of hindsight that we might have done differently."
The Bouygues team that was supposed to build the project ended up being paid £21m for a crossing which never happened, according to papers published in February.
Copley has previously accused the trustees of the charity behind the scheme of handing Bouygues the money "in an attempt to push the project through".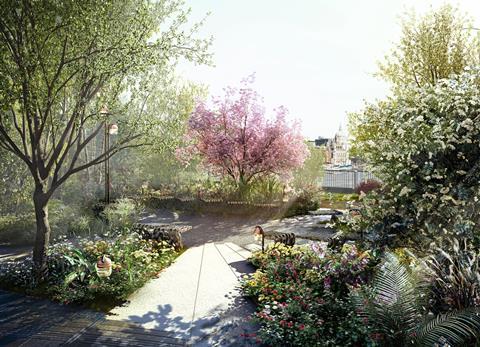 The role Thomas Heatherwick played in the Garden Bridge debacle was also questioned, with Copley asking Brown to explain whether there were concerns Heatherwick's presence at meetings of the Garden Bridge Trust, the charity in charge of building the project, had swayed trustees.
Heatherwick was appointed to design the £175m scheme in 2013.
Speaking at the evidence session yesterday, Copley asked: "Were you aware that Thomas Heatherwick was attending the Garden Bridge Trust meetings and at any point were you concerned about him potentially influencing the trustees?"
Brown said he had not been aware Heatherwick was going to the trust meetings.
He said: "I've had no dealings with him. I have no understanding what his role was attending those meetings."
The appointment of both Heatherwick and lead engineer Arup was the subject of significant debate, with RIBA threatening to call for the Garden Bridge to be halted pending an investigation into the way it was procured back in 2016.
Marks Barfield and Wilkinson Eyre also entered a design competition for the job.