Three London councils hire own architects after Crossrail refuses to use design review on 27 surface stations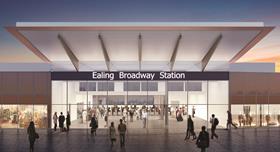 At least three London councils have employed their own architects to work on Crossrail designs in a bid to improve existing plans for stations and their surroundings, Building has learnt.
Ealing council revealed this week that it was "unhappy" with current designs for stations at Southall and Ealing Broadway by Bennetts Associates and has parachuted in King's Cross station architect John McAslan and HOK respectively to develop the designs.
Last month, Richard Rogers warned that rail bosses were missing a once-in-a-century chance to produce quality stations that will stand the test of time after Building revealed that the design of 27 surface stations outside of central London were not being independently design reviewed.
Building has now learnt that Redbridge and Hillingdon councils have also employed architects to work on their areas' stations.
Mark Lucas, head of planning and regeneration at Redbridge, revealed the council has set aside up to £2m to match potential TfL funding for public realm improvements, based on designs by BDP and Hyder Architects, for its four Crossrail stations.
Lucas said: "I've spoken to Crossrail and they've said […] if we can direct them to improvements or areas of poor design, they will re-examine current proposals."
A spokesperson for Hillingdon council confirmed it had employed an architect familiar with Crossrail to examine Bennetts' designs for Hayes & Harlington station but declined to name the practice.
A spokesperson for Bennetts Associates said: "The real issue here is the constraint on brief and budget. The local authorities' criticisms stem from Crossrail's comprehensive spending review some time ago, which led to much reduced scope for several outlying stations.
"If the feedback from the local authorities through their architects leads to a more ambitious brief and an appropriate budget, we would be delighted to [work to] improve the stations and their immediate environment for all concerned."
A Crossrail spokesperson said: "We welcome further input on the designs […]. The same principle applies across the route - we have been working closely with all the councils involved to get the designs right and welcome their input."