Spending over the next six years will be 'biggest programme of investment in roads in 40 years'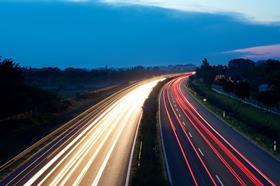 The Treasury has announced it will spend £28bn on improvements to the UK's roads over six years from 2014.
Outlining the government's capital spending plans today, treasury secretary Danny Alexander said the plan was the "biggest programme of investment in our roads in 40 years".
He committed to support the Highways Agency's complete pipeline of national projects over the course of the next parliament.
Alexander also said he would "take action to fix the backlog of maintenance, which has left road surfaces in communities up and down the country crumbling" with £10bn of investment for maintenance between 2015 and 2021.
He said that £4bn of this would be invested in the Highways Agency's national road network and the remaining £6bn would be distributed to local authorities to spend on improving local roads.
To deliver the improvement in roads the Treasury said it would turn the Highways Agency into a "publically-owned corporation". It said this would end the cycle of stop-start investment in roads and deliver efficiencies worth £600m by 2020-21.
Institution of Civil Engineers director general Nick Baveystock said: "The government's commitment to provide our strategic roads network with the long-term funding certainty it needs is excellent news and should signal the end of the 'stop and start' funding which has hindered effective maintenance and management of this vital asset for too long.
"The £10bn investment for road repairs, with £6bn allocated for local roads, is also a positive step and will go some way to clearing the £10.5bn local roads backlog.
"These funds however, must be complemented by a focused, joint central and local government programme for the work.
"Given the significant pressure on local authority budgets, this will ensure the funds are protected, spent in a cost efficient way and do ultimately result in improved road conditions for the UK."
National road projects pipeline
A 14 Cambridge to Huntingdon - Upgrade to A14 between Cambridge and Huntingdon. Funding supported by contributions from local authorities and local enterprise partnership plus tolling.
A19/A1058 Coast Road - Alleviating congestion on the A19 and improvingstrategic links. This is between Newcastle and South Shields.
A63 Castle Street - Improving access to the Port of Hull, relieve congestion, improving links to developments. Castle Street is the section of the A63 in the centre of Hull by the port.
A19 Testos - New flyover at the Testos junction which connects the A19 and the A184, south of Newcastle.
Junctions between Birmingham and Manchester (M6 J16-19) - Managed Motorways. Junctions from near Crewe to Knutsford.
South Birmingham Junctions (M5 J4a-6) - Managed Motorways. Junctions near Bromsgrove to Worcester.
Derby Junctions (A38) - The three junctions are: A38/A5111 Kingsway roundabout; A38/A52 Markeaton roundabout; and A38/A61 Abbey Hill roundabout
M1 Junctions near Long Eaton (J24-25) - Managed Motorways. Junctions by Long Eaton.
M1 Junctions south of Rugby (J13-19) - Managed Motorways. Junctions to the East of Milton Keynes to just North of Rugby.
A21 Tonbridge to Pembury - Upgrade the A21 between Tonbridge and Pembury to dual 2-lane carriageway standard with grade separated junctions at the Fairthorne and Longfield Road Junctions at the south end of the scheme.
M4 J3 - J12 - Increasing the capacity of the M4. This project is located on 31 miles of the M4 Motorway between the A312 at Heathrow Airport to Theale in Berkshire.
Gatwick Junctions (M23 J8-10) - Managed Motorways. Junction with M25 to Gatwick Airport.
A27 Chichester Bypass - Upgrading 6 junctions on the existing 3.5m bypass