Extra support required, local MP Eleanor Smith tells Building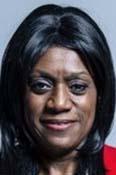 The Labour MP whose constituency is home to Carillion's Wolverhampton headquarters has criticised both the failed contractor and government plans for its employees.
Speaking to Building, Wolverhampton South West MP Eleanor Smith said: "The priority certainly wasn't to staff it was to the shareholders and board members."
"That's sometimes the trouble with these big companies they forget what they are really all about."
Smith (pictured) said her greatest concern lay with the future of those employed at the headquarters with affected staff told to use a government helpline
"These people need support and they need more than a Jobcentre helpline. The current government measures are not enough, more needs to be done.
"The type of jobs that are out there aren't stable, they are flexible or fixed-term jobs. They aren't the sort of job you thought you'd have when you join a company like Carillion."
Speaking in the House of Commons yesterday Smith's Labour colleague Pat McFadden, MP for Wolverhampton South East, also suggested government had done little to reassure those employed by Carillion.
McFadden said: "The Secretary of State has said that staff should continue to turn up to work and that they will continue to be paid, but he has also said that he is setting up a helpline at Jobcentre Plus.
"What assurance can he give the staff – I am thinking particularly of the 400 staff in the Wolverhampton headquarters, as well as staff around the country – that they should continue to turn up, when they face the prospect of that Jobcentre helpline?"
Cabinet Office minister David Lidington told MPs that thousands of staff who worked for Carillion inside private sector companies were due to have their wages stopped tomorrow (Wednesday).
"The position of private sector employees is that they will not be getting the same protection that we're offering to public sector employees, beyond a 48-hour period of grace," Lidington confirmed.