NHS Trust says bureaucratic wrangle putting July appointment of Carillion replacement in doubt
The NHS trust behind a Birmingham hospital left half-built after Carillion's collapse has admitted it might not be able to appoint a contractor in July as planned.
Balfour Beatty has been finishing early works for the Midland Metropolitan Hospital since October, with Balfour and other contractors including Laing O'Rourke and Sir Robert McAlpine eyeing up the £400m main construction contract in a competition being run by Sandwell and West Birmingham Hospital NHS Trust.
But a bureaucratic overhaul is now threatening to derail the construction timetable and once again leave the site without builders – more than 16 months after Carillion crashed into liquidation while on the job.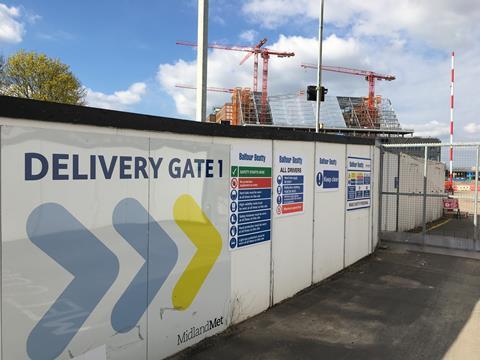 A planned change to clinical commissioning boundaries – which govern where local GPs refer patients to – could see West Birmingham split up from neighbouring Sandwell, the borough where the hospital in Smethwick is being built.
Toby Lewis, the trust's chief executive, said the proposal is "a red-rated risk to the coherence of the Midland Metropolitan Hospital business case".
An outline business case for the hospital was rubber-stamped by the treasury last autumn after contractors refused to take the job on similar terms to Carillion.
But the case contained conditions about its future use by several local health providers.
In a report to board members at the trust, Lewis wrote: "The timing of this debate [about commissioning boundaries] is problematic, with the Midland Met final business case due back for approval at the May board [meeting], which is the latest possible date on which the [current] build programme can be maintained."
The changes to commissioning boundaries could alter the sorts of services the hospital is able to provide.
Lewis said he would write to local GP groups to share his "grave concerns" and convey "the risks created by the continued uncertainty".
He added: "The position is clearly a very disappointing one, given the ostensive commitment of partners to the delayed completion of the site."
Any contract provisionally agreed between the NHS trust and a building firm would still have to be agreed by government.
Lewis told Building: "Last winter, the outline business case for Midland Met was approved by government. Finishing the process of choosing a contractor requires approval of a preferred bidder and then permission to sign a contract.
He added: "Each requires approval by the trust's board, and through [the treasury and health department]. This is due to happen later in June and in early July.
"We are committed to Midland Met opening in 2022. We believe we had the conditions in place to do so, and hope that we retain partners' support to move forward at pace."