Sprayed concrete worker killed by falling concrete in Crossrail tunnel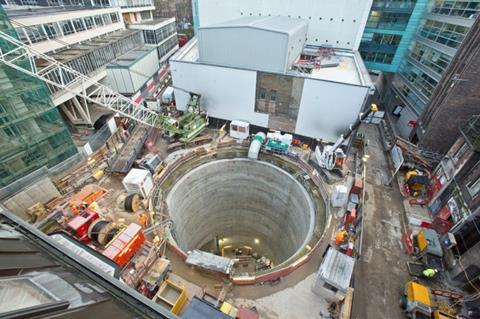 A worker on Crossrail has been killed in a Crossrail tunnel in the early hours of this morning.
Fire fighters and police were called to the scene of the incident at the site in Fisher Street in Holborn, but the victim, a 43-year old man, was pronounced dead at the scene after suffering head injuries.
The London Fire Brigade said six fire rescue units, three fire engines and over 50 firefighters and officers were called to the scene.
Crossail confirmed the worker was employed by Bam Nuttall, Ferrovial, Kier (BFK), the main contractor on the site, and was working with a sprayed concrete machine as part of the construction of the Crossrail tunnel.
Crossrail said the worker was spraying concrete onto the excavated ground when a piece of concrete from the ceiling of the tunnel fell and hit him.
Crossrail said that when the incident occurred, work was taking place to build a new crossover tunnel between two train tunnels that have already been constructed by Crossrail's boring machines.
A Crossrail spokesperson said: "Sadly, at approximately 5am this morning a contractor working at our site in Fisher Street, London was fatally injured.
"Our first and foremost thoughts are with the family and friends affected by this. The next of kin are being informed.
"We are establishing the facts and a full investigation into the incident has commenced."
It is the first fatality on the £15bn project.
The Health and Safety Executive has been informed.
A Bam Nuttall spokesperson referred all enquiries to Crossrail.
From @LondonFire
We've been called to rescue a workman who's been injured 10 metres down a tunnel on Fisher Street, #Holborn. A number of firefighters there.
We were called to rescue the workman at 5.38 & we've got a no. of specially trained rescue crews there to get him out of the tunnel #Holborn
The man we rescued earlier from a tunnel on Fisher Street, #Holborn has sadly died. Our thoughts are with his friends and family.