Tributes flow in after world-renowned architect dies of heart attack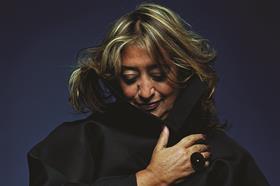 Zaha Hadid, the architect behind some of the world's most famous buildings, including the 2012 Olympics Aquatic Centre, has passed away at the age of 65.
Born in Baghdad in 1950, the Iraqi-British architect became the first female to recieve the Pritzker Architecture Prize in 2004 and won the Stirling Prize in 2010 and 2011.
Known as one of the most prominent figures in British creative culture and sought-after worldwide for her projects, Zaha's legacy includes the Aquatic Centre as well as the Heydar Aliyev Cultural Centre in Baku, Azerbaijan, the MAXXI National Museum of the 21st Century Arts in Rome, the Riverside Museum at Glasgow's Museum of Transport and Guangzhou Opera House in China.
A statement by Zaha Hadid Architects said: "It is with great sadness that Zaha Hadid Architects have confirmed that Dame Zaha Hadid, DBE died suddenly in Miami in the early hours of this morning. She had contracted bronchitis earlier this week and suffered a sudden heart attack while being treated in hospital."
Hadid studied mathematics at the American University of Beirut before starting her architectural journey in 1972 at the Architectural Association in London.
By 1979 she had established her own practice in London – Zaha Hadid Architects – with office partner Patrick Schumacher and garnered a reputation across the world for her ground-breaking theoretical works including The Peak in Hong Kong (1983), the Kurfürstendamm in Berlin (1986) and the Cardiff Bay Opera House in Wales (1994).
Earlier this year Hadid became the first woman to receive the Royal Institute of British Architects Gold Medal in recognition of her work. Hadid's other awards included the Republic of France's Commandeur de l'Ordre des Arts et des Lettres, Japan's Praemium Imperiale and in 2012, she was made a Dame Commander of the Order of the British Empire. She was made Honorary Member of the American Academy of Arts and Letters and Fellow of the American Institute of Architecture.
Marking the award of the Gold Medal in a speech in February, Hadid warned against a move towards traditional design among London's current developments. Hadid said: "I have always believed in progress and in creativity's role in progress. That's why I remain critical of any traditionalism. I worry about the dominance of neo-rationalism in London's current transformation."
A forceful character who never shied away from expressing her views, Hadid hit back at the suggestion that she only designed "expensive" buildings earlier this year when she appeared on Radio 4's Desert Island Discs. She was the first woman architect to appear on the famous Radio 4 show in its 74-year history.
In a tribute to Hadid, RIBA President Jane Duncan said: "This is absolutely terrible news. Dame Zaha Hadid was an inspirational woman, and the kind of architect one can only dream of being. Visionary and highly experimental, her legacy despite her young age, is formidable. She leaves behind a body of work from buildings to furniture, footwear and cars, that delight and astound people all around the world.
"It was only last month that I had the enviable task of awarding Zaha the 2016 Royal Gold Medal for architecture – she was delighted to receive the recognition and adds the medal to an amazing collection of awards, not least winning the RIBA Stirling Prize two years running. The world of architecture has lost a star today."
Mayor of London Boris Johnson also paid tribute to the late architect, saying: "So sad to hear of death of Zaha Hadid, she was an inspiration and her legacy lives on in the wonderful buildings in Stratford & around the world."
Former RIBA president Angela Brady said: "Zaha was a great architect and worked so hard to produce such stunning project around the world that have her distinctive designs
"I loved her style and tenacity, she was a tough architect which is needed as a woman at the top of her profession and at the height of her career. She will be sadly missed as an iconic leader in architecture and as a role model for women in architecture."
Architecture critic and contributing editor to Vanity Fair Paul Goldberger said: "Shocked and deeply saddened to hear the news of Zaha Hadid's death: one of the great architectural figures of our time".